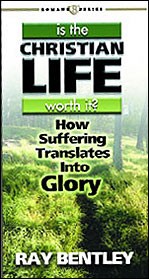 Is The Christian Life Worth It?
Ray Bentley
Our Price: $2.00
"For I consider that the sufferings of this present time are not worthy to be compared with the glory which shall be revealed in us" (Romans 8:18).
But when we experience heartaches, grief, pain, illness or loss, it's hard not to wonder, did the apostle Paul know what he was talking about? How does suffering translate into glory? Is it worth it to hang onto our faith and endure? Pastor Ray Bentley explains why the answer to that is a resounding YES! ...and why.